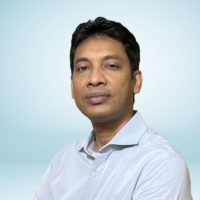 Md. Nazmul Muneer
Microsoft Certified Trainer (MCT)
Md. Nazmul Muneer is a Microsoft Certified Professional "Microsoft Excel (Excel and Excel 2019)" and also obtained the prestigious Certificate from Microsoft "Microsoft Certified Trainer (MCT)".
Md. Nazmul Muneer is one of the key contributors in the Accounts & Finance department of Beximco Pharmaceuticals Ltd. with 12+ years job experience and has previous work experience in Energypac Power Generation Ltd. Mr. Muneer also works as a freelance Excel automation consultant and Facilitator. In the last few years he has conducted more than 300 professional Excel training programs in many national and multinational corporate houses and educated in Excel more than 7,000 participants through effective training.
He is a regular Excel Facilitator and online course author of few leading training institutes and platforms. He also conducted Excel presentation in few educational institutes including Dhaka University, Jagannath University, United University, ICMAB, ICAB and more. He has also conducted exclusive corporate professional training programs for many Bangladeshi and MNCs organizations.
He is expertise in developing automated formula-based Excel dashboard, VBA/Macro based Excel application, strategic business model, various problem-solving calculators, What-if Analysis model, data analysis dashboard using Business Intelligence (BI) tools, KPI automation etc.
Mr. Muneer has obtained educational experience in two different disciplines. He is a post graduate in Accounting and has a Diploma in Professional Software Engineering. These have enabled him to acquire vast IT knowledge on developing Database Software, Advanced Excel with VBA, Access with programming, VB, SQL server, Crystal report, IBM AS/400, ORACLE E-Business Suit functional and implementation, etc.
Other Members